Elemental
Elemental lets you generate textures, materials and patterns including fire, clouds, wood and water, as well as stylish ethnic and retro patterns. There are simple controls to customise the colours and material settings for an infinite variety of designs. The textures are generated to fit any resolution image without tiling.
Create textured or creative backgrounds of paper, wood or abstract patterns
Combine elemental materials with bevel in your software for picture frames, panels or plinths in any size or shape
Use source luminance of your image to apply creative effects to any object or portrait
Apply textures and materials to any selection
The noise, blur and texture settings on the Effects tab, increase both the control available on particular patterns and the creative flexibility of the program.
Effects can be applied flat or applied to the luminance of the source image using the Scale to Source option and the Transparency setting allows you to control the overlay of the material. This can generate unique and stylish effects including texture-tattooing and double-exposure type images.
Create unique photo frames, backgrounds or abstract art or simply be inspired by the intricate texture of colours. Anyone who has ever sat cloud-watching or firegazing will find Elemental a mesmerizing inspiration.
How Elemental Works
Elemental provides a wide range of presets in a series of different categories including Abstract, Fire, Water, Wood, Sky, Fabric, Minerals etc. You can simply select these from the list and use them as they stand or you can use the various other options to customise them.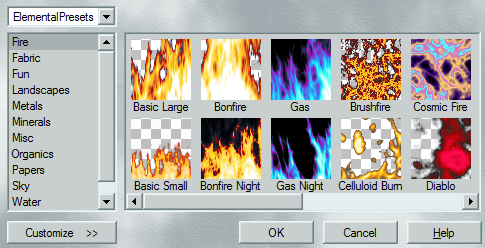 Material
The basic style of the material and the turbulence and randomness of the pattern generation can be customised to create an infinite variety of designs.

Colour
You can change the the colours and design new gradients. Using different colour gradients on the same pattern will often result in very different effects.

Tips
Use the same texture on a duplicate layer but use a different random seed to get a slightly different pattern. Then set the layer to use a blend mode of "hard light" or "difference" for some creative abstract effects.
Apply an Elemental texture to a close-up photograph of a natural texture such as gravel, tarmac or bark using the Scale to Source option or using the technique described above.
See also the Showcase section.
View Inspiration Gallery
Please Note this is a 32-bit Plugin
New Version - v1.1607
Download Now
Support Us
Combine Elemental With